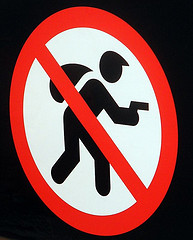 In the home construction industry, one of the more interesting facts is that many builders are now installing burglar alarms in new homes. Once you learn how these alarms operate, they are simple to use and can protect your family and home from a burglar that would try to victimize you. There are a few aspects of burglar alarms that you need to be aware of initially, specifically the three basic settings of these systems.
At-home setting
If you are going to be home and you are fairly positive that no one is going to be leaving or entering the home, you can set burglar alarms in the at-home setting. If children are running in and out through only one door while they are playing outside, you can always set the system to exclude that door. In so doing, the alarms won't get triggered if the door is closed or opened. In most instances, a burglar is not going to try and enter your home if they know someone is there, but it always better to be secure.
Away-setting
Whenever the house is empty and is going be for a specific length of time, you should always set the burglar alarms to the away setting. The mode activates all motion detectors and sensors. You want to remember that if you have pets that will be moving around while you are away from home that you will need to install pet-immune motion detectors. These operate based on the size and the weight of the animal.  So if you have a 40-pound Labrador, you want to install a pet-immune detector for any animals that weigh 40 pounds or less.
Off-setting
The off setting is the third of the settings that basic burglar alarms typically employ.  This is not an advised setting as no protection is offered against a burglar entering your home, so no alarms will sound. Normally, this mode is only used when you frequently enter and exit the house and no protection is necessary. This is especially the case if you are having family gatherings or parties and people are using different doors to enter or exit the home..
Knowing and testing your burglar alarms
Make sure that you and your family members have read the burglar alarms' instructions, especially the chapter operating the alarms. Additionally, test your system once a month to be assured that it is always operating properly. You also want to make sure that you test all detectors and sensors as well.
Image credit