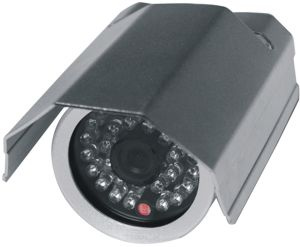 With all the different burglar alarms available today, it can be quite a challenge choosing between hard-wired alarms, a wireless system, or some newer innovative gadget recently introduced onto the market.  Regardless of what type of system you decide on, remember that the primary intention is to deter any burglar from breaking into your home and ripping you and your family off.
Between current crime statistics where burglaries are concerned and the state of the economy, it is no wonder that more and more individuals are installing burglar alarms to protect their family and home.  So what is all the buzz about wireless burglar alarms and why have they become so popular of late compared to the traditional hard-wired systems? The goal is to stay a step ahead of being victimized while keeping this cost-effective at the same time.  And wireless security systems are doing exactly that.
The consensus today is that wireless systems are more beneficial as well as being the most cost-effective systems on the market today.  The primary reasons that more and more homeowners are choosing wireless burglar alarms are their lack of exposed wires and their neat appearance.  Plus, if you're a savvy DIY'er, they are simple to install and most of these systems, depending on how many zones in the home you are trying to protect, can be up and operating within an hour to an hour and a half.
Additionally, wireless burglar alarms have grown extremely popular with apartment dwellers and other renters because of their portability.  In other words, whenever you move to a new location, it is far easier to take a wireless system with you than it is with a hard-wired system.  Removing hard-wired alarms may involve tearing holes in ceilings and walls, and then having to repair them once you have removed the system.
Another reason why wireless burglar alarms have grown in popularity is because you can now protect up to 32 zones in the home.  Most of the basic systems will protect 6 to 8 zones in the home whether it is a hard-wired or wireless system.  Additionally, you can add other devices to the wireless system such as a 24-hour monitoring service and security cameras.  Finally, because some people are more visual than other individuals, wireless systems are the most practical way to deter a burglar from breaking into your home and victimizing you and your family.
Photo via hiddencameraman