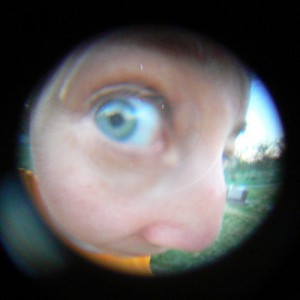 Topping the charts of the all time best parental axioms is the familiar adage: never talk to strangers.  Though this advice was critical to our personal security as children, continuing to adhere to it as adults is impossible, and slightly rude.  However, a simple modification to the axiom can revive its usefulness in our adulthood by increasing our level of home security: never open the door to strangers.
Installing doorbell intercoms and peepholes will allow you to communicate with and see an unknown visitor and decide if they are an unwanted visitor – before you open the door.  Not opening the door to unwanted guests can prevent situations such as forcible entry and home invasion.  Furthermore, many professionals use a meet-and-greet as a surveillance technique in order to collect information from you.  There is also the added bonus that you can maintain a physical barrier between you and your own special brand of annoying individual.
Peepholes are a simple and cheap home security device.  They range in price from $5 to $70.  It is better to buy these in a store where you can check the optical quality; cheap peepholes can be blurry and useless, while higher end units that penetrate the depths of the cosmos can be unnecessary.  Installation is not too difficult but will usually require a power drill.  You may want to consider installing one at a lower height for the kids.  Not only will they need to use it as well, but it will help them develop good, security conscious habits.
Home intercoms have evolved into an affordable and effective tool for your home.  They now integrate wireless technology and therefore are very easy to install.  Doorbell intercom systems can be as cheap as $60 with prices rising into the hundreds as interesting features (such as a live video feed) are added.   At the lower end of the price range, wired systems are cheaper, so if you are handy you might want to save money by installing a wired system.  See www.intercomsonline.com to compare prices and find a model that's right for your home.
Once you have installed your intercom and peephole, the key is to actually use them.  These security devices do not function in the same way an alarm does.  Well maintained alarms work even when the home owner is passive.  Intercoms and peepholes, on the other hand, are instruments that are only useful when you are proactive enough to use them.  So stay safe, stay alert, and leave any unwanted guests unanswered.