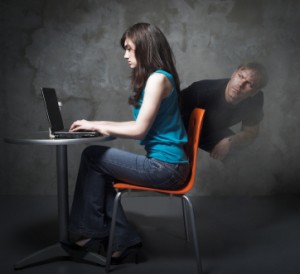 The modern day burglar does not need fancy gadgetry to be considered a high tech thief.  With only a laptop and access to the internet, a crook can obtain important information that will help him accomplish his task.  Here are four simple ways that can bring any would-be burglar into the realm of the high tech:
1.  Google Maps
If you were shopping for a new flat screen, you might flip through a catalogue to see which items are of interest and deserve a closer look.  If a burglar wanted to steal a new flat screen, he might explore one of many online mapping tools that use satellite imagery, and decide which houses deserve a closer look.  From the maps, which show individual properties with surprising clarity, a crook can learn about the lay of the land; he can see see shrubbery, fencing and other details that will help him plan his point of entry, and route of escape.
2.  Google's Street View
Though Google has taken security precautions such as blurring licence plates and faces, information can still be gleaned from the new 'Street View' feature.  This feature gives everyone in the world a panoramic view of your front yard and surrounding neighbourhood.  Instead of suspiciously sitting in a car and observing, the burglar can now get a view of his target from the comforts of his own home.
3.  Facebook, Twitter and Flickr
People these days are very willing to share their personal information with the world.  Social networking sites such as Facebook, Twitter and Flickr allows people to freely give away information that can be very useful to a burglar.  These sites make a thief's life simple:  he can learn about your upcoming vacation from Facebook, view your household items on Flickr, then take his time stealing those items because according to your last Tweet, you are enjoying the sunshine on a beach 1000 miles away.
4.  Surveillance Made Easy
Why go through the effort of scanning social websites for information useful to a robbery?  There are now websites that post the whereabouts of individuals for all to see; a convenient tool for the lazy burglar.  Sites such as www.pleaserobme.com upload actual Tweets and Facebook status updates that indicate when a person is away from home.  Many people are willing to let the entire world know that they are stepping out of the house for groceries, and these sites specialize in listing which houses are currently vacant and ready to be robbed.
To counter the modern burglar, begin by taking control what you can.  Adjust the privacy settings on your social network account, and be careful of the information you share, especially of your whereabouts.  You don't want to be the next hot item on this site: www.robmenow.com
Photo via Geeks On Call